Miranda Equine Veterinary Service
Miranda Noseck, DVM
Biography
Miranda Noseck grew up in Tucson, Arizona where she first learned to ride.  She began taking lessons when she was 6 years old, owned a few horses, then got her horse Tyler as a teenager.  Together they competed on the HITS Arizona Winter Circuit.  As her faithful companion, Tyler accompanied Miranda to Oregon State University, where they competed for the OSU Hunter/Jumper Team, and she completed a bachelor's degree in Zoology.  She and Tyler then moved to California, and Miranda attended Western University's College of Veterinary Medicine.  Following vet school, Miranda completed an equine internship at New England Equine Medical and Surgical Center in Dover, New Hampshire gaining a wealth of practical experience with particular focus on emergency/critical care, medicine, lameness and dentistry.  Miranda moved to Vancouver Island in 2009 to work as an equine veterinarian and started her own practice in 2013.
Services
Preventative medicine and wellness exams
An annual exam allows the opportunity to establish appropriate specifics for your horse in the areas of vaccination, parasite control, nutrition and oral health.  Regular evaluation will help catch problems early should they arise and will contribute to refreshing your relationship with Miranda should you ever need her in an emergency capacity.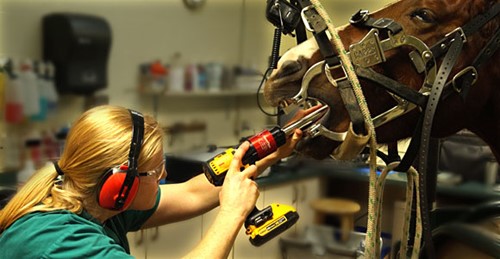 Dentistry
As the daughter of a human dentist, Miranda has a keen interest in dentistry instilled from her father and has taken advanced dentistry courses, including the management of EOTRH (Equine Odontoclastic Tooth Resorption and Hypercementosis).  Her recently upgraded dental equipment includes the cordless PowerFloat Quick Connect system which allows her to rapidly switch between several specifically designed floating attachments.  She is also equipped with appropriately sized tools for ponies and miniature horses.  With the right equipment, Miranda performs dental work as efficiently and atraumatic as possible for her patients.
Breeding
Miranda has recently upgraded to a new digital ultrasound machine to allow detailed evaluation of your mare's reproductive tract. She offers pre-breeding examination/consultation and assisted breeding techniques using both fresh-cooled and frozen semen.  Counselling through the expectant mare's pregnancy is provided along with preparation for a safe and successful delivery of the foal.
Lameness Exams
Miranda provides first opinion lameness examination. She is equipped with digital radiography to assist in localizing of the source of the lameness.
Pre Purchase Examination
Miranda uses her wealth of experience and practical approach when assessing horses for purchase.
Castration
Miranda routinely castrates horses up to 2 years of age.  She always arrives with an assistant when she performs field castrations.  In-hospital castration is also available and strongly encouraged.  The major benefit of in-hospital castration is the ability to control variables such as lighting, weather, a padded recovery room, and the presence of a gas anesthetic machine in case complications were to warrant its use.
Laboratory Analysis
When time is of the essence, Miranda is able to provide much of her laboratory evaluation without the delay of sending samples to an outside lab.  Routine complete blood count and serum biochemistry are performed in-house within about 20 minutes.  Culture of bacterial samples and guidance of antibiotic choice can also be performed in-house.  More recently, Miranda has acquired the ability to identify hemoglobin and albumin in manure as a screening tool for stomach and large colon ulcers.  Samples that are not able to be assessed in-house are sent out to reference laboratories.
Facilities
Miranda's practice is primarily ambulatory with most horses being treated in the comfort of their own farm.  If the home environment is not appropriate for a particular procedure, Miranda also has access to an equine hospital where advanced care can be provided.
Emergency Service
Miranda is part of an emergency call sharing group. Emergency services are provided for regular clients of the practices.  Please call 1-800-869-1208 for all equine emergencies.