Facilities
Petroglyph Animal Hospital
Equerry's hospital facility is on the lower level of Petroglyph Animal Hospital, a horse hospital built in 1998 and occupied by Equerry in 2006. The horse hospital consists of a fully-equipped surgical suite with a padded induction and recovery room. The treatment area has a set of stocks that are also used for standing surgeries. There are four stall complete with soft stalls. For lameness exams, there is a paved level lameness area for in-hand evaluation as well as a sand ring for lunging or under-saddle assessment. There are also both grass and sand paddocks available. The facility is completely fenced and all interior areas of the hospital are under 24 hour video monitoring.
Hospitalized cases are monitored regularly. When there is nobody present within the facility remote monitoring is performed using the video cameras and a cell phone app. When the need arises and cases require it 24 hour staffing is available.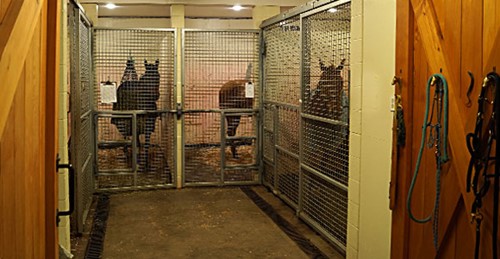 Farm calls / diagnostic services
Equerry regularly travels from Sidney to Campbell River and over to Port Alberni to evaluate horses. Portable battery operated digital x-ray, digital ultrasound and digital endoscopy allow many procedures to be performed on the farm. Our new endoscopic unit allows evaluation of the airways as well as the stomach on the farm. Treatment plans are made and usually performed on the farm helping to reduce stress and the need to transport the horse.
Address
990 Old Victoria Road
Nanaimo, B.C.
V9R 6Z8